I hate the kids' menus at restaurants. It's nothing but beige coloured crap, even if you're eating at a 3 or 4 star restaurant.
Plain Cheeseburger
Hot Dog
Macaroni & Cheese
Chicken Fingers & Fries
Mini Cheese Pizza
Grilled Cheese
Without even looking, I guarantee at least half, if not all, of those meals are served with fries at any given sit-down restaurant. Where's the flavour? The colour? The vegetables? So boring and greasy! I don't want my kid eating that stereotypical junk. When we go out to eat, I want Tesla to expand her horizons and not be afraid to try something new. How can she try something new when all of the restaurants have the exact same kids menu?
But I've found some restaurants that serve interesting dishes on their kids menu!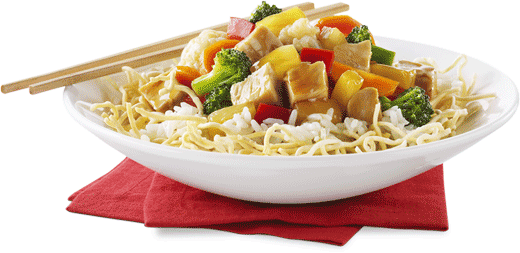 Chopstick Chicken n Rice Bowl
From Boston Pizza, the Chopstick Chicken n' Rice Bowl.
Chicken, red peppers, pineapple and seasonal vegetables tossed in teriyaki sauce and served on rice, topped with crunchy noodles.
At Moxie's kid's can have Teriyaki Salmon with jasmine rice and steamed vegetables. They can also have Grilled Chicken with asiago cream penne and steamed vegetables.
Quarter Chicken with Garden Salad
From Swiss Chalet you can order the all white meat Quarter Chicken with your choice of a garden salad or fresh vegetables.
If you're ever at Chop Steakhouse, you can get the Sirloin Dinner for your kid. A 7oz AAA sirloin served with seasonal vegetables, and mashed potatoes.
At Montana's Cookhouse, you could get Pork Back Ribs. They're hickory smoked pork back ribs brushed with barbeque sauce and served with your choice of side. Some of those sides include cucumber coins, apple slices, salad, or fries and carrot sticks.
From Red Lobster, of course you can get seafood. Try ordering the Snow Crab Legs or the Garlic Grilled Shrimp off the kids menu for your offspring. The meal comes with milk and your choice of orange wedges or broccoli.
The stereotype that kids won't eat vegetables or properly seasoned food and will only eat bland "kid" foods is such non-sense.
Food is for everyone.
My 9 month old baby ate yam fries with chipotle-ranch dip just last week. She eats everything I eat.
I love garlic and onions and when I cook I use all sorts of different herbs and spices, even crushed chilies. The only thing I don't season food with is salt. Tesla eats all of it! I try to expose her to as much flavour and texture as I safely can.
Tesla's too young to order off the kids menu, but if none of these restaurants ban children in the next 3 years, I think I'll keep them in mind for when we decide to go out to eat as a family. It's nice to know there are places that serve child sized portions of food that aren't part of the "Stereotyped Six" listed above.